Oil Change Services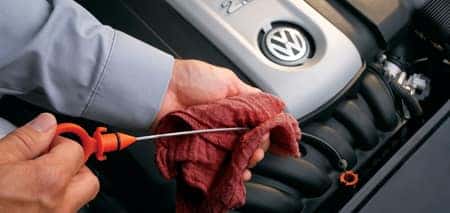 Our Woodside dealership offers oil change services. At Long Island City Volkswagen, our highly-trained technicians perform quality services including the necessary oil change that all vehicles need. Why does your car need an oil change? Learn more about why oil changes are important as well as what other services we provide at our state-of-the-art service center.
What Happens During an Oil Change?
Normally when you bring your vehicle in for an oil change, a mechanic will prepare the vehicle by warming up the engine if needed for the oil to be at the preferred temperature. After this, the mechanic will do the following:
Remove the engine oil's drain plug
Drain out the old oil
Change the oil filter
Add fresh oil to the vehicle
Wondering what you'll have to pay? Find out how much an oil change costs in Long Island City before you schedule your service.
Why are Oil Changes Important?
Your vehicle's engine uses oil to not only lubricate the various moving components but also to absorb the heat from the friction of those moving parts. When the heat isn't absorbed or if there's no lubrication, the engine can overheat. If the oil isn't replaced, it can cause dirt and debris to remain within the engine and cause issues in the future. Having your vehicle's oil changed means driving longer on the Flushing roadways. Make an appointment for an oil change with us when the next maintenance mileage marker hits.
What Other Services Can Be Done at Long Island City Volkswagen ?
When it comes to the services we can provide for you, the list goes on and on. We schedule regular maintenance, emergency repairs, and more. And when you visit our service center, we can offer more than quality service. We also have genuine parts, service and part specials, and available accessories to spruce up your model. Contact us today to learn more.
Learn More at Long Island City Volkswagen Today!
Whether you need to know when to replace your tires or you want help prepping your vehicle for winter, schedule an appointment with us at Long Island City Volkswagen. Our skilled technicians are standing by to repair, maintain, and accessorize your vehicle. Learn more today when you visit our dealership near Astoria.